Be kind and compassionate to one another. Forgiving each other just as in Christ, God forgave you.
Hello and welcome to Year 6
Class Teacher - Mr Kasiri
Teaching assistants - Mrs Eccles, Miss Aykroyd & Ms Ford
Homework
At Saviour the homework policy is little and often to support learning every day. It is important that books are signed daily by an adult.
Reading
Reading is an important part of our learning and enables access to all areas of the curriculum. Please read with your child each day to support their development.
Physical Activity
The children have P.E. sessions every week as well as missions with Commando Joe so it is important to always have the right kit in school every week.
Useful Websites for Learning
WHITE ROSE MATHS
At Saviour we follow the White Rose Maths scheme. Due to school closures they have prepared a series of five maths lessons for each year group from Year 1-6.
They will be adding five more each week for the next few weeks. Every lesson comes with a short video showing you clearly and simply how to help your child to complete the activity successfully. Click the image above to be taken to their website.
AUDIBLE
Audible is offering access to a large collection of children's stories free of charge whilst schools are closed. They can be streamed on a desktop, laptop, phone or tablet.
Click the image above to be taken to their website.
LIVE ENGLISH LESSONS
Super Sentence Stacking with Jane Considine starting Monday 23rd March at 9:45am on this channel YOUTUBE channel where she'll be streaming live English sessions for children of all ages. Get involved.
THE MATHS FACTOR
The Maths Factor will be making it FREE for everyone (usually about £2 per week) to support childrens' continued learning at home for the duration of the UK Schools closure period. We want to help you and your child as much as we can. Click on the image above to be taken to their website. Parents can join for free and access the resources at any time.
www.themathsfactor.com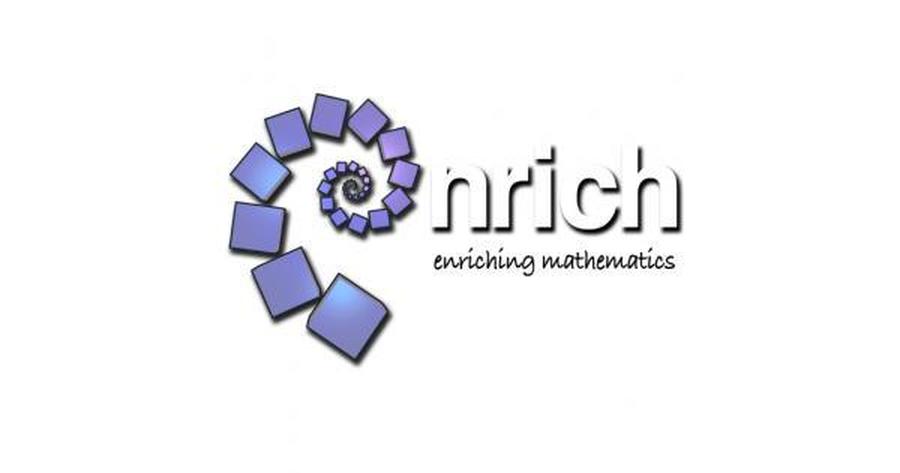 NRICH
NRICH's activities focus on developing mathematical problem solving. Our rich mathematical tasks build students' perseverance, mathematical reasoning, ability to apply knowledge creatively in unfamiliar contexts, and confidence in tackling new challenges.
www.nrich.maths.org
MATHSPHERE
A superb set of maths resources, containing over 5000 worksheets. Ideal for parents to support their children at home.
www.mathsphere.co.uk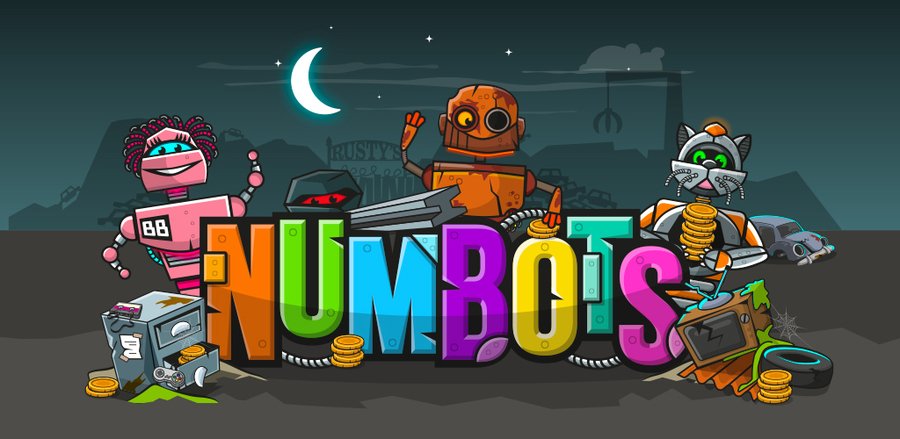 NUMBOTS
This a new challenge game just like Times Table Rockstars! Use your TTRockStars password for free access to NumBots.
www.play.numbots.com
STORYLINE ONLINE
This website showcases a range of picture books. You can listen to these books being read to you.
www.storylineonline.net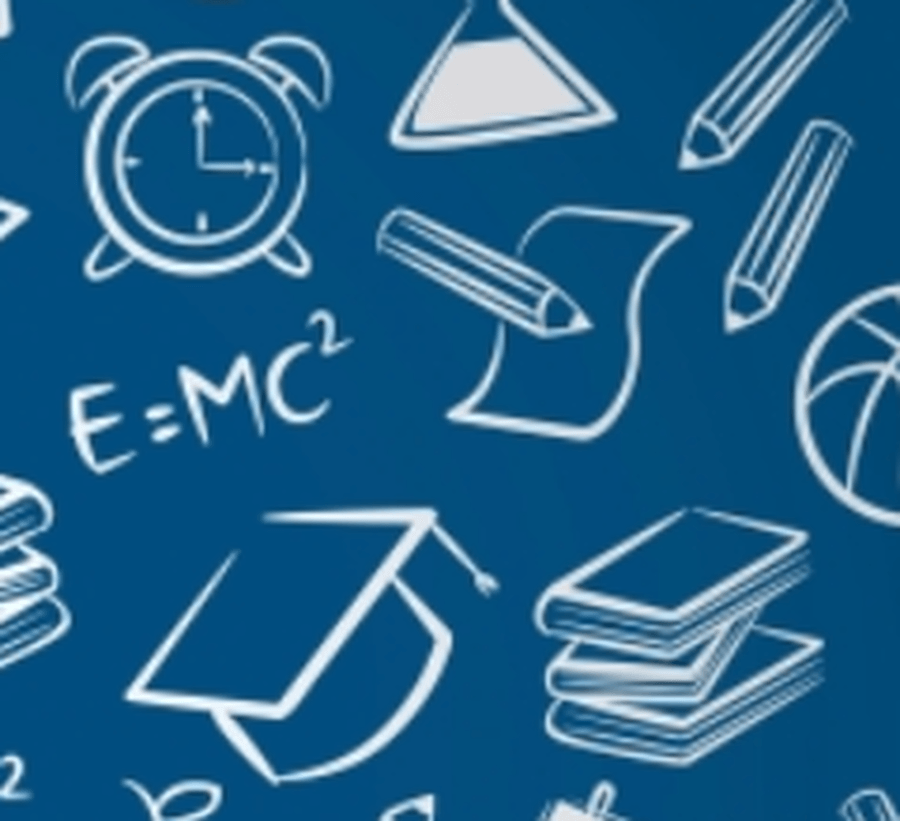 DIGIPUZZLE
Digipuzzle has some fantastic puzzles for you to solve. Try the reading game puzzles which includes games such as hangman, flashcard puzzles , crosswords and many more!
www.digipuzzle.net
EDUCATION QUIZZES
Education Quizzes provides students with home-based support for their schoolwork when using phones, tablets, desktops and laptop computers. The online quizzes are written by teachers to help children remember and revise what they are learning in class. Click on the image above to take you to quizzes from a range of subjects.
www.educationquizzes.com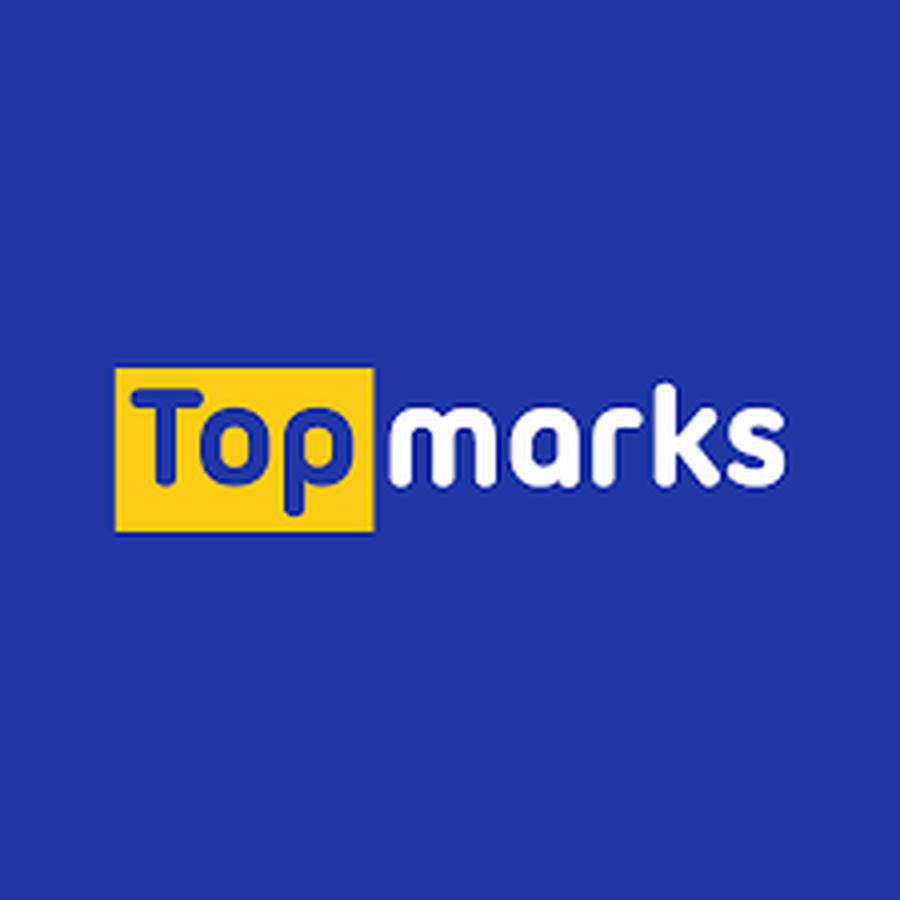 TOP MARKS
Visit Topmarks to play fun educational games. Topmarks gives children the opportunity to learn online, through safe, fun and engaging games and activities.
www.topmarks.co.uk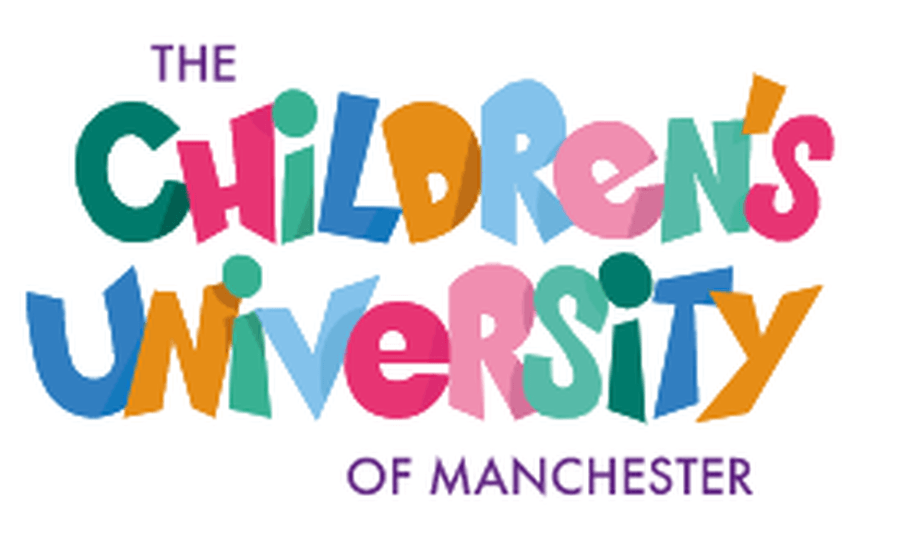 THE CHILDREN'S UNIVERSITY OF MANCHESTER
The Children's University of Manchester has been designed to support KS2 (7-11) teaching and learning both in the classroom and at home. The resources can be used for whole class teaching with an interactive whiteboard and also for group, individual and homework sessions using PC, tablet or mobile devices. The website can also be used by parents, carers and children at home.
www.childrensuniversity.manchester.ac.uk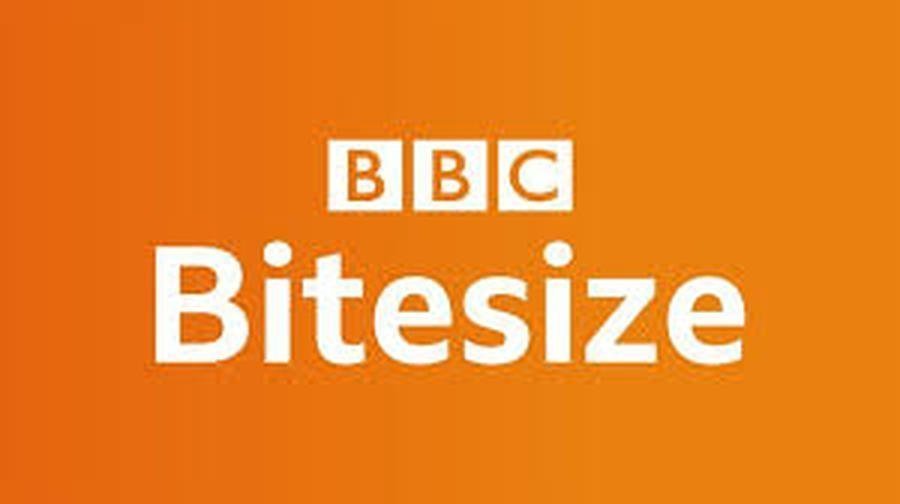 BBC BITESIZE
Over the coming days and weeks Bitesize will be changing to bring you daily content to help you with your education and wellbeing.
www.bbc.co.uk/bitesize

CODE CLUB
Code Club is a global network of free coding clubs for 9- to 13-year-olds. Here you'll find step-by-step instructions for our coding projects, which will teach you how to create games, animations and more with code.
www.codeclub.org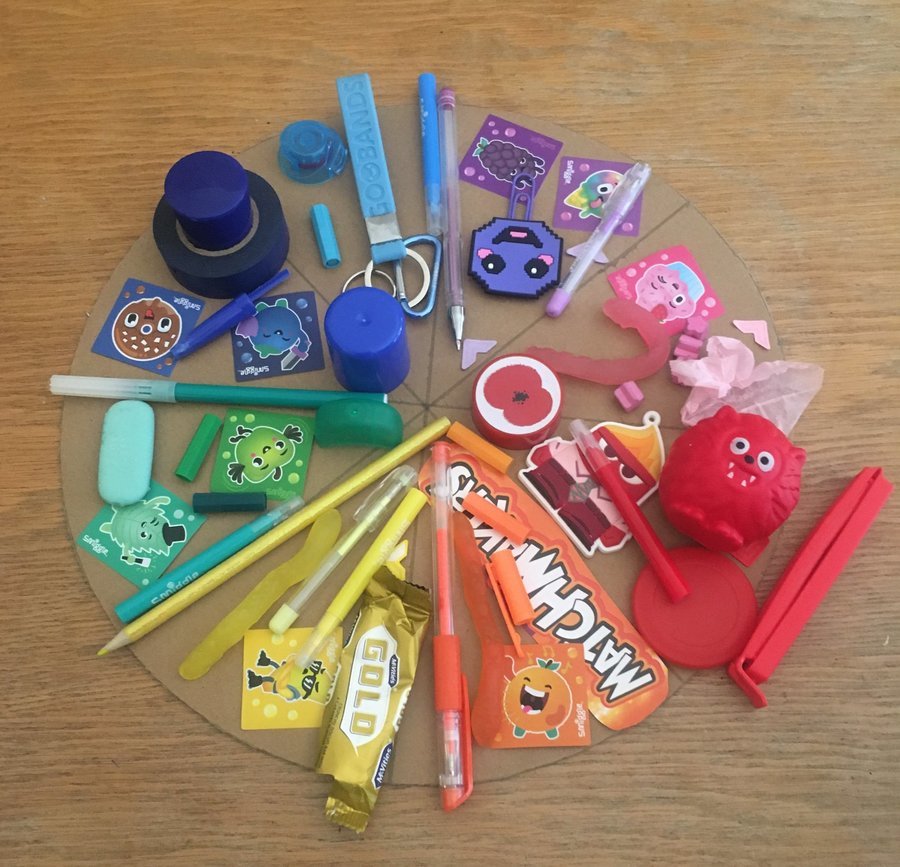 ART - COLOUR WHEEL
This is a fun art activity. Make a colour wheel using found objects from around the house. After this, you could paint a colour wheel.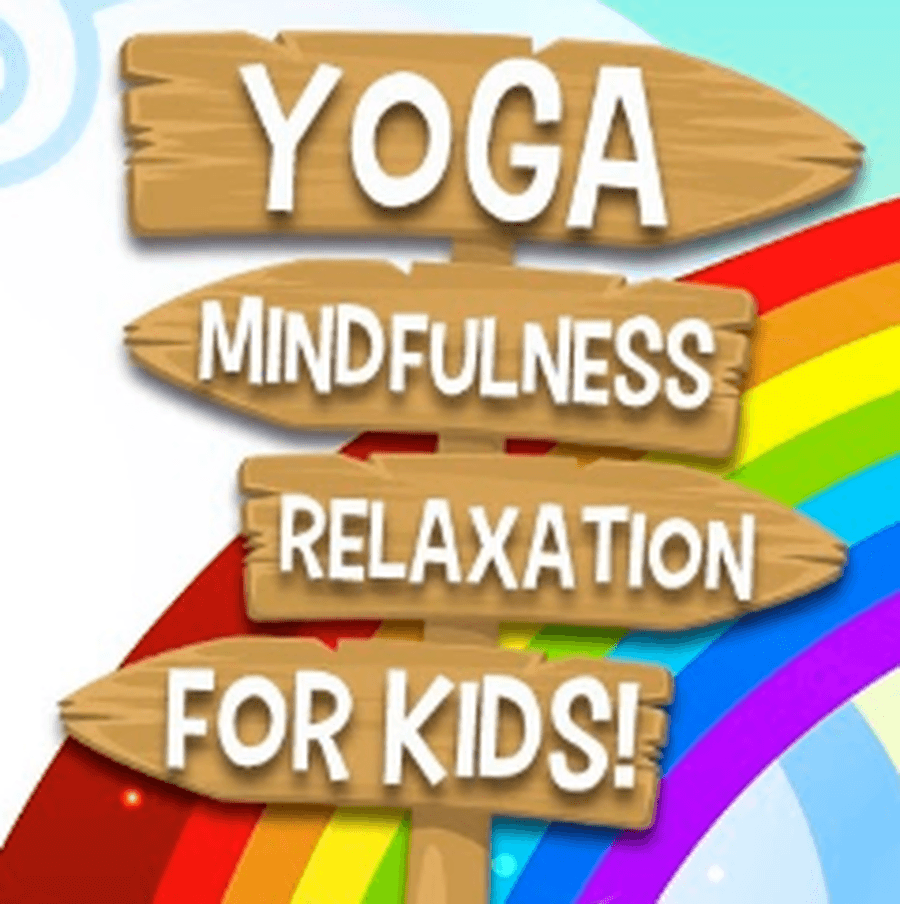 COSMIC KIDS YOGA
Yoga, mindfulness and relaxation designed specially for kids aged 3+, used in schools and homes all over the world. Interactive adventures which build strength, balance and confidence.
www.cosmickids.com
HOME CHALLENGE
As you will have seen, we are having a brand new entrance being built at our lovely school. The problem is, we just can't think of a school sign that will make our entrance look friendly and inviting. Can you help us design one? It can be any shape and can include a picture of what you think represents our school. The sign should include our school name 'Saviour C.E. Primary School' and should be designed using our school colours (blue and yellow). There are some examples on the attached doucument.
Just hand your designs in to your class teacher (with your name on) once school has re-opened. Good luck!
SINGING
Risen is a brilliant Easter song. Try learning the lyrics. Perhaps you could teach them to your family and all sing together.
POETRY & DRAMA
'Chocolate Cake' is a brilliant poem by Michael Rosen. Learn your favourite part and add actions. Perform it to your family.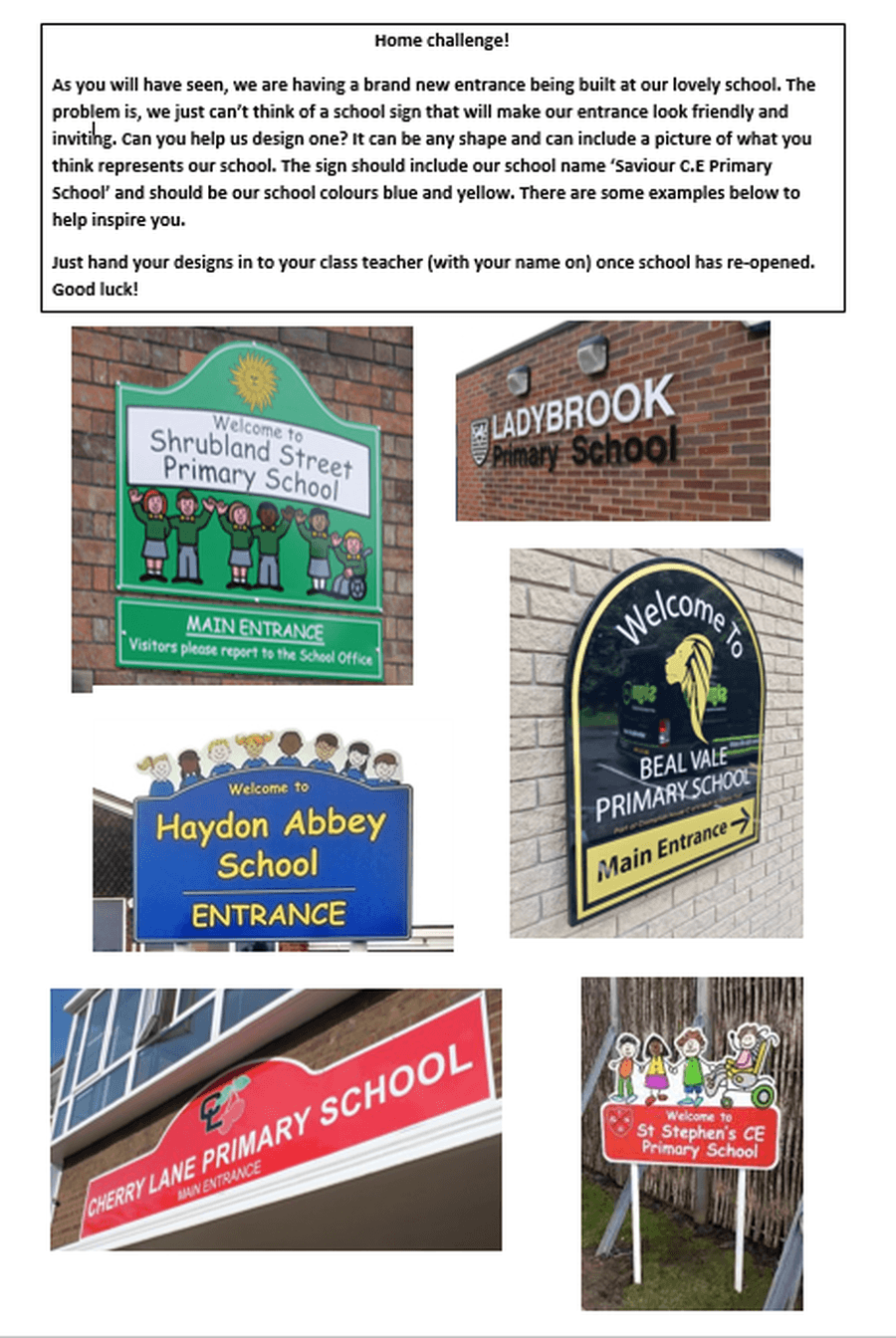 Click on the picture to find some stories linked to our Jigsaw topic.